NEVADA THEATRE FILM SERIES
401 Broad Street
Nevada City, CA 95959

Call (530) 477-9000 for info about the movies
ADMISSION:
Adult: $8.00
Children 12 & Under: $7.00
Seniors (62+): $7.00


View Larger Map
Within the auditorium of California's longest running theatre (built in 1865), we are proud to host a variety of foreign and independent films, documentaries and the unusual. Films run every Sunday evening and many weekends.


Click Here for a printable 8.5" & 11" PDF of our Nevada Theatre Film Series Flyer


Don't have Adobe Reader on your computer? Click Here to download

>
8. Sun Apr 20 - FOLLOWING THE NINTH: In the Footsteps of Beethoven's Final Symphony – 1 hr 20 min – Not Rated. This documentary film takes us on a cinematic journey across five continents and into the heart and soul of one of the world's greatest works of art. Directed by Kerry Candaele, the film shows how Beethoven's stirring music played a hugely supportive role as people expressed their profound desires for personal and political freedom. The Ninth buoyed the protesters in Tiananmen Square and provided solace to those struggling for freedom in Pinochet's Chile. When the Berlin Wall came down, Leonard Bernstein performed the symphony as an "Ode To Freedom." In Japan, the symphony, performed hundreds of times by amateur groups, took on special significance in the aftermath of the 2011 earthquake and tsunami. Following the Ninth is a cinematic celebration of the most profound musical testament to tolerance, peace and connection across all borders the world has shared for centuries. "Thrilling...smartly assembled and gracefully paced." –Daniel Gold, N.Y. Times. "Beautiful and powerful...If millions could experience its affirming and incandescent message, we might turn around the destructive dynamics that are overwhelming the earth." –Bill Moyers.
---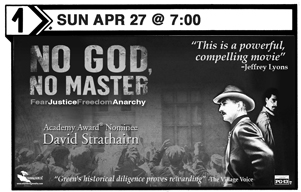 1. Sun Apr 27 – NO GOD, NO MASTER – 1 hr 34 min – PG-13. When a series of package bombs show up on the doorsteps of prominent politicians and businessmen, like John D. Rockefeller, in the summer of 1919, U.S. Bureau of Investigation Agent William Flynn (Academy Award nominee David Strathairn) is assigned the task of finding those responsible. He becomes immersed in an investigation that uncovers an anarchist plot to destroy democracy and a government plot to disenfranchise Italian immigrants. Based on true events of the 20s, including the Sacco and Vanzetti case, the IWW, the brutal Palmer raids and the emergence of J. Edgar Hoover, the film sets the stage for a timely drama with resoundingly similar parallels to the contemporary war on terrorism and the role government plays to defeat it.

Watch Trailer

---
2. Sun May 4 – REDWOOD HIGHWAY – 1 hr 30 min – PG-13. Living in a comfortable retirement community in Southern Oregon, estranged from her family, unsatisfied with her surroundings, and generally not happy about life, Marie (Shirley Knight) decides to journey 80 miles on foot to the coast of Oregon to revisit the ocean of her past for the first time in 45 years. Having been told by her granddaughter, that she is not welcome to attend her upcoming wedding, Marie uses this hike to sort out the events of her life, to challenge herself, not only physically, but also mentally to see if she can adopt a better attitude toward her family and her future. Along the way, she meets an extraordinary cast of characters and discovers that you're never too old to learn something about life... and about yourself. "5 Stars. Redwood Highway is both heartwarming and courageous. A feel good movie. A pure joy to watch. A standout performance played beautifully by Shirley Knight. If you like warm, gentle, coming-of-age stories, see Redwood Highway and, yes, bring some tissue."–Examiner.com Watch Trailer


---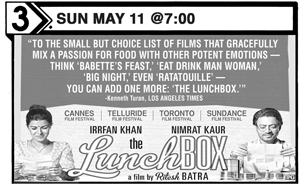 3. Sun May 11 – THE LUNCHBOX – 1 hr 44 min – PG – In Hindi with English subtitles. A mistaken delivery in Mumbai's famously efficient lunchbox delivery system connects a young housewife, Ila (Nimrat Kaur), to a dour widower, Saajan (Irrfan Khan from "Life of Pi"), on the verge of retirement from his drab accounting job of 35 years. Ila not only means to provide a meal for her husband, she also attemps to engage him in their relationship via notes in the lunchbox. The fact that the lunchbox mistakenly ends up at Saajan's desk results in Ila and Saajan creating a fantasy world together. Gradually, this fantasy threatens to overwhelm their reality. "The comedy is more wry than uproarious, the melodrama gently poignant rather than operatic, and the sentimentality just sweet enough to be satisfying rather than bothersome." –A.O. Scott, N.Y. Times.

Watch Trailer


---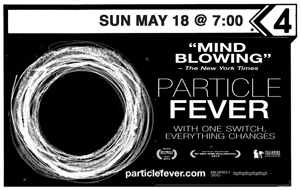 4. Sun May 18 – PARTICLE FEVER – 1 hr 39 min – Not Rated. For the first time, a film gives audiences a front row seat to a significant and inspiring scientific breakthrough as it happens. Particle Fever follows six brilliant scientists during the launch of the Large Hadron Collider, marking the start-up of the biggest and most expensive experiment in the history of the planet, pushing the edge of human innovation. As they seek to unravel the mysteries of the universe, 10,000 scientists from over 100 countries joined forces in pursuit of a single goal: to recreate conditions that existed just moments after the Big Bang and find the Higgs boson, potentially explaining the origin of all matter. "Particle Fever succeeds on every level, but none more important than in making the normally intimidating and arcane world of genius-level physics at least conceptually comprehensible and even friendly to the lay viewer." –Todd McCarthy, Hollywood Reporter
Watch Trailer


---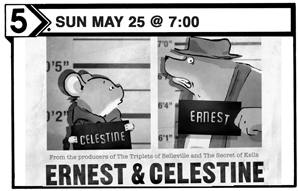 5. Sun May 25 – ERNEST & CELESTINE – 1 hr 20 min – PG. There's no school Monday, so bring your kids and grandkids to this Oscar nominated animated feature about two unusual friends, Celestine the mouse and Ernest the bear. Celestine is an artist and a dreamer – and when she nearly ends up as breakfast for Ernest, the two form an unlikely bond. But it isn't long before their friendship is put on trial by their respective bear-fearing and mice-eating communities. Ernest & Celestine joyfully leaps across genres and influences to capture the kinetic, limitless possibilities of animated storytelling. Bringing it all together is the on-screen chemistry between the two lead characters - a flowing, tender and playful rapport that will put a smile on your face and make your heart glow. "It moves with the rhythms and emotions of classic kids' literature, possesses elegance and belly laughs in equal measure, and is almost magically beautiful to look at. And, like bears, it has bite." –Ty Burr, Boston Globe Watch Trailer


---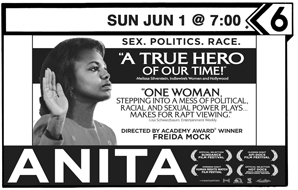 6. Sun Jun 1 – ANITA – 1 hr 35 min – Not Rated. An entire country watched transfixed as a poised African-American woman in a blue dress sat before a Senate committee of 14 white men and with a clear, unwavering voice recounted the repeated acts of sexual harassment she had endured while working with U.S. Supreme Court nominee Clarence Thomas. That October day in 1991 Anita Hill, a bookish law professor from Oklahoma, was thrust onto the world stage and instantly became a celebrated, hated, venerated, and divisive figure. Anita Hill's graphic testimony was a turning point for gender equality in the U.S. and ignited a political firestorm about sexual misconduct and power in the workplace that resonates still today. The film is both a celebration of Anita Hill's legacy and a rare glimpse into her private life. Anita Hill courageously speaks intimately for the first time about her experiences. "'Anita' brings a fresh perspective to a somber and awkward chapter of modern American politics" –Miriam Bale, N.Y. Times. Watch Trailer


---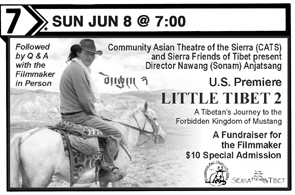 7. Sun Jun 8 – LITTLE TIBET 2 – 1 hr 30 min - Not rated but equivalent to PG. Little Tibet 2 is a moving follow-up to director Nawang (Sonam) Anjatsang's original film, Little Tibet in which Sonam, a young Tibetan man living in exile in the UK, went to Ladakh in search of the culture and traditions of his homeland, Tibet. 
In Little Tibet 2, Sonam traces his father's footsteps through Nepal to Mustang, where the traditional culture of Tibet remains. Sonam encounters a Yogi, has an audience with the King of Mustang, meets western trekkers and investigates a fascinating restoration project training local woman in traditional arts and crafts enabling them to conserve temple wall paintings that are widely regarded as masterpieces of the fifteenth century. 
The film's climax is an encounter with a veteran of the Tibetan guerilla army that operated from bases in Mustang during the 1960s and 1970s. The film will be followed by a Q&A with the director. As this is a fundraiser for the filmmaker, admission is $10.
Watch Trailer


---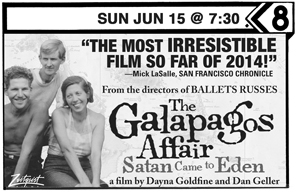 8. Sun Jun 15 – THE GALAPAGOS AFFAIR: SATAN CAME TO EDEN – 2 hrs – Not Rated. Darwin meets Hitchcock in this true-crime tale of paradise found and lost. The Galapagos Affair is a fascinating documentary portrait of a 1930s murder mystery as strange and alluring as the famous archipelago itself. Fleeing conventional society, a Berlin doctor and his mistress start a new life on uninhabited Floreana Island. But after the international press sensationalizes the exploits of the Galapagos' "Adam and Eve", others flock there—including a self-styled Swiss Family Robinson and a gun-toting Viennese Baroness and her two lovers. When some of the islanders disappear, suspicions of murder hang in the air leaving an unsolved mystery which remains the subject of local lore today.  "Imagine Robinson Crusoe penned by Agatha Christie and you'll get a sense of the true-crime mystery in this fascinating doc reenacted with the voice of Cate Blanchett, among others. A stranger-than-fiction gem. B+" –Chris Nashawaty, Entertainment Weekly.  "Highest Rating! -Mick LaSalle, S.F. Chronicle.  Because of bike race, movie starts at 7:30.
Watch Trailer


---